At last count I have 200 made.
I can't help myself. Bonnie's Mystery Quilts are oh, so tempting for me. I love the thrill of quilting with a large community and my friends too. It's a blast. I learn a lot. I escape the pressures of the season and I get a quilt made.
The one time I did different colors.
I always want to do different colors to be different, but then I get so jazzed about her colors and that's what I end up doing.
I am a huge fan of lavender. Had a few bushes out front for a couple years. They were big and beautiful. Sadly a few years back when we had such cold temps int he winter, I lost my lavender. Sigh. I haven't had the heart yet to plant them again.
Provence. Now, that is a place I have always wanted to go. I would love to visit France. The countryside, Paris, the coast... all of it.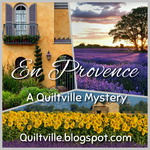 So its a win, win situation. Click the button above if you want to join the fun.